In my previous articles I share with you useful info about weight loss, but what is the 2 week diet about?
The 2 Week Diet by Brian Flatt it's a diet that claims to burn 4 to 8 kg in just 14 days. There is also The 3 Week Diet available which claims to lose 5 to 10 kg in 21 days.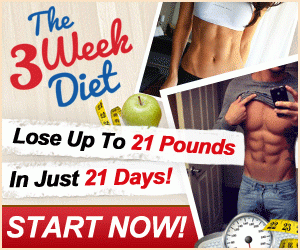 As the author mentioned, this diet should not replace any medical advice if you follow any kind of medication or special treatment.
Before staring this diet, you should consult with your nutritionist to be sure that the diet it's right for you and you have all the necessary nutrients.
I am not for a rapid weight loss and I prefer the healthy version instead as I share with you in my article 'A diet plan to lose weight on the long run'.
I was asked to make a review of this diet and I will share my thoughts with you.
Who is Brian Flatt?
I search on Google and what is found is that Brian Flatt is the founder of R.E.V. Fitness.
He activates in the field of fitness and healthy nutrition since '90s.
After he was reading and reviewing over 500 medical studies, diet books, reviewed diet systems, programs, pills, gadgets and potions, Brian Flatt came on the market with he calls 'the ultimate rapid weight loss diet system'.
I was not able to find an official page of the author nor background and experience.
How this system works?
This diet is divided in 4 separate handbooks. The full PDF book has 99 pages.
1. The Launch Handbook – 57 pages in 22 chapters
2. Diet Handbook – 18 pages in 9 chapters
3. Activity Handbook – 11 pages in 16 chapters
4. Motivation Handbook – 8 pages in 8 chapters
1. The Diet consists of two phases, each phase is 1 week-long.
According to the information provided by the diet plan, in the first week you will probably see a drop of weight of 4 – 5 kg. If you think it's somehow OK, it could mean the loss of the water retain by your body, but we are different.
I still think that losing 0.500kg per day it's too fast for your body.
2. The Workouts:
I agree that in any diet or not, psychical exercise is required if you want to see results in dropping weight or just to keep in shape.
The author mentioned that the workouts are designed to burn fat and get you into shape in about 20 minutes just a few times each week.
As you probably know, the daily 30 minutes' walk it's the minimum of recommended psychical exercise.
Like on the diet part, the workouts are separated in 2 distinct phases: gym workout or home workout using only your body weight.

3. Supplements:
Well, if you ask me, I am against any supplements used for losing weight.
Couple of years ago, one of my friends introduced us some weight loss supplements. We were not able to find any kind of information, there were untested on our market at that time.
After the spreading of the phenomenon and more and more were using the supplement, the first side effects occurred. The Healthy Ministry have started an investigation and the product was banned.
4. Motivation and Mindset
This is the fourth manual which is coming with the diet plan.
Like in any other program in different area of life and work, setting the goals and keep reviewing them is the main idea.
Is this diet different?
I agree that many diets fail. You can see a rapid weight loss in a short time, but I think the most important thing is how to keep the weight after diet plan ends.
As you may know, this is the most challenging step. If you ask people which followed any diet and then started again with their usual eating habits, the result is that they gained weight back, but this time more on the top of the initial weight before starting the diet.
And why? The reasons are many: stopping any kind of psychical exercise, no plan after the diet ends on how to introduce old foods into your diet or how to replace with similar but healthier products.
This diet has a little information about this getting back after the diet.
Nutrient, Proteins, Fat, Carbohydrates
The essential nutrients that your body needs include water, proteins, fats, vitamins and minerals.
They are essential to your muscles, hair, skin, hair, organs and hormones.
The nutrients omitted by the diet are carbohydrates. We know that the carbohydrates do not have any nutritional value for our body.
I think you are familiar with the traditional food pyramid which at the very base has bread, pasta, rice, potatoes, namely carbohydrates. The suggestion is to consume them on ever meal. But how healthy is it?
On the top of the pyramid we have foods and drinks with high level of sugar.
The level of fruits and vegetables is just on the second level of the pyramid.
A healthy food pyramid should look like fruits and vegetables at the very base followed by grains like quinoa, oats, whole grain cereals, followed by lean meat, fish, eggs, nuts, seeds, lentils, beans, tofu, soy milk and alternatives.
At the very top we should have the healthy fats.
Limit salt and added sugar. Choose to drink water over high added sugar drinks, enjoy herbs and spices
Rapid weight loss
Personally I haven't tried this diet. I have had my experience with Dukan diet before going into a plant based diet and it was not for me. I have to admit that I have lost weight, but too fast.
The Dukan diet is high in protein and low in carbohydrates. The high percentage of meat was too much for me as I was never a meat lover.
When I've reached the predicted weight, I just collapsed. In one morning I waked up, went to the kitchen, I start feeling weak and have lost continence.
I've visited my doctor which told that I was lucky that my body, especially the heart were good with me. My body claimed the price for the rapid weight lost.
I will detail in a future post my full experience with this diet.
The 2 week diet plan is also a rapid weight loss diet and I'm afraid it's not suited for the people with chronically diseases. Just to point out that I'm a healthy person with no health issues.
The rapid weight loss diets are a real shock for your body.
Fasting
The fasting is mentioned and used in this diet.
Many of us know that the body resits better on the food limitations. The fasting has many benefits for your body, it's not dangerous.
In the first day of fasting the body starts to consume the glucides reserve and in the next 2-3 weeks the fat deposits start decreasing (lipids).
Preparing your body before fasting is recommended to increase the chances to follow the fasting and succeed.
Not eating at all, I do not recommend. Same is available for fasting only with water.
Diet essentials
There are couple of pages which describes some essential supplements like EFA's (Essential Fatty Acids), Whey Protein, CLA (Conjugated Linoleic Acid), Leucine, 'Daily Energy' vitamins and minerals supplement.
2 Weeks Meal Plan
This is a low carbs diet and the fats are reduced.
There are 3 distinct phases: phase 1 (1-5days), phase 2 (day 6), phase 3 (days 7-8) and phase 4 (calorie restrictions based on BMR).
In this diet first recommended meal is lunch and last meal just before bed. But, you know that our first meal is breakfast and skipping it will slow down our metabolism.
From the vast majority of fruits, the consumption is limited.
Water is encouraged as nowadays we tend to drink less water.
The meal plan is a mix of calculating supplements, fasting and calories.
There are pages of explanations and calculations of calories which I found very hard to follow.
Very interesting here is the 3 pound rule which claims to ensure that weight lost will remain lost forever. If you gained 3 pounds or more after diet, just start phase 1 to reduce the weight.
2 Weeks Workout Plan
Brian's experience as a trainer is exposed in the workout plan, which is just brilliant.
Daily walk is recommended which I agree.
Warm up before every workout, exercise daily and keep consistency.
The exercises are not hard to do and requires little effort from you.
All the exercises are described along with images for a better understanding.
2 Weeks Motivation Plan
Mindset, motivation and willpower are the 3 ingredients of this handbook.
Put your goals on paper and keep a journal of what are you eating.
Pros of the diet
We have all the information to follow the diet
Affordable price
Daily workouts, easy to follow
60 days money back guarantee
Cons of the diet
Rapid weight loss
Little information how to get back to your normal diet after following this diet
Can you lose weight with this diet?
If you stick to the meal plan, workout plan and keep it, I think you can lose weight.
The big downside is that the losing weight is temporary, as I mentioned in cons section.
I would not recommend for a long term.
Check The 2 week diet plan website