Some are saying that walking is the sport for people which do not have time to join a gym, but I think it's not entirely true.
One of my friends have had a new born and her husband was in charge with walking the other infant and the dog. I was shocked when I have met him after 4 months.
He has lost weight and he looked like a different person. I asked him what diet is he following. He laughed and simply answer: daily walks with the baby and the dog, twice a day for 1-2 hours. Nothing else.
Walking is a key factor in maintaining your health: it puts the blood in motion, helping to oxygenate the brain and other tissues in the body, improves cardiovascular activity, and brings remarkable benefits to the respiratory system, immune system and of course silhouette.
The walking program to lose weight, which I will share with you is projected for three weeks and seems to be the perfect representation for the famous phrase "to combine useful with pleasure." This program is promoted by a known health and recovery center from USA.
I like to walk outside on all the seasons, but when is a harsh weather I walk inside on a treadmill. I also have used 'Walk at home' programs of Leslie Sansone. The programs are very well-structured with different goals 1k, 3k and 5k.
Week 1: Build the Foundation
Monday: Start the program by timing your walk, around 2 km on a relatively flat terrain. Go fast, but feel comfortable, without forcing yourself. This is your first target. Later, go another 2 km, in your usual walk and slow the rhythm.
Tuesday: Go fast for 10 minutes, then, for another 5 minutes, increase the rhythm even more, as when you are late at a meeting. End your walk with an easy walk of 5-10 minutes. Repeat 2-3 times.
Wednesday: Break.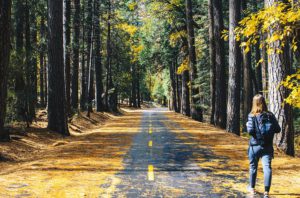 Thursday: Walk in the alert pace for 10 minutes, then stop for a few breaths and continue with a number of lunges by walking for toning the thighs and forging the buttocks. Ten steps on each leg before and then back are enough. To get back, go back and forth for about 10 minutes, trying to inhale as much air into your chest at every breath.
Friday: Break.
Saturday: Take a walk for at least 30 minutes, at a sustained pace, but not rushed.
Sunday: Break.
What is great about this program is that it can become a routine that you can keep throughout your life. You will not believe how much you will improve your time, pace and fitness level as you resume.
Week 2: Raise Your Level
Monday: Set a minute on the timekeeper and walk at full speed, then lower the rhythm and walk in the normal way for 2 minutes. Alternate these 2 walking for at least 10 times.
Tuesday: Walk normally for 10 minutes, then increase the speed to your maximum rhythm, almost running, for another 10 minutes. Finish with another 10 minutes of quick walk.
Wednesday: Choose a bumpy terrain and go for a sustained pace for 15 minutes. Now that you've warmed up, go fast for another 15 minutes. Thus, you will increase the calorie burning rate.
Thursday: Go fast for 10 minutes, then in the next 10 minutes gradually increase, without running. Finish with 10 minutes of quick walk. Thus, you will consume up to 20% more calories than if you were going with the same speed from start to finish.
Friday: Break
Saturday: Walk the same 2 km distance from the first day of training and time yourself and check whether you have improved your performance. The change will surprise you!
Sunday: Break.
Week 3: Hit The Hills
Monday: For 15 minutes, go uphills fast as you can (if you do not have hills in the vicinity, you can use a treadmill at the 7% inclination). When you are at the top of the hill, stop, breathe a few times and execute classical lunges, 15 each on each leg. Continue the workout with relaxed walking but still lively on flat ground for another 15 minutes.
Tuesday: Find the steepest surrounding hill (or use the treadmill at 9% inclination) and go as fast as you can on the top. It is indicated that this exercise lasts for at least 10 minutes.
Return to the flat ground and go fast for 10 minutes, then climb small hills (or set the 5% incline on the treadmill) at your maximum speed for at least 10 minutes. Finish with a ride on the normal field into the moderate step – again for 10 minutes.
Wednesday: Choose your own route, alternating walking at a sustained pace on flat terrain with hills walking (or varying inclination every few minutes on the treadmill). Dedicated 40 minutes of this session.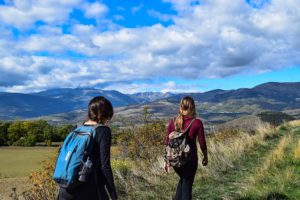 Thursday: Go uphill for 10 minutes (or use treadmill at 7% inclination), then stop and, for 2 minutes, make a set of alternative lunges with one step back. Go quickly for 15 minutes, then stop again and, for 2 minutes, make a set of alternative lunges with a step forward. Complete the training with a relaxed walk for at least 10 minutes.
Friday: Break.
Saturday: Now you should feel and be in a much better shape. Take the 2 km test and see how much your time has dropped from the first day!
Walking is helping you to thin your silhouette and it is also the perfect way to control blood sugar: studies show that only 15 minutes of walking after eating contribute to blood glucose regulation and risk reduction of type 2 diabetes.
Sunday: Break.
Good To Know
In your break days you can still enjoy light walks and be sure you are not sitting for a long period.
If you fell sore or worn out next day after a walking, just take a day off.
If you are new to walking, just take it easy and build endurance gradually. Start with 15-20 minutes and see how you feel.
Walk daily and increase the time with couple of minutes after first week.
Benefits Of Walking
• Anyone can practice walking. You do not need a specific workout to walk around. Perhaps in order to become a person who constantly practices walking, all you have to do is go faster, longer and as often as possible.
• You can choose almost any place to practice walking. To find a place where to walk, it is only necessary to get out of the house. Almost any place such as a pavement, a street, a road, a trail, a park, a field or a universal shop can be an ideal place to walk.
The variety of possibilities for practicing this activity makes walking as one of the most practical and enjoyable physical activities.
• You can walk at any time. You do not need a partner or a team to walk around, so you can set up your own program. Weather does not put the same obstacles and problems as other sports.
Also, walking does not depend on the season and can also be practiced at extreme temperatures, which are unsuitable for other activities.
• It is not a costly activity. You do not have to pay a membership fee of a particular club or to go to a special place. The only equipment you need is a pair of good shoes and comfortable clothes.
Walk, Walk and Walk
Now you are aware about the schedule and benefits of walking. No specific workout or outfit. No weather or gym hours depended, only your mood.
You will be in a good mood, more creative, your jeans will fit better, you will have beautiful legs and the risk of chronic diseases will decrease.
How much are you walking daily?
I always welcome comments, so feel free to leave one in the section below. If you want to hear more from me, just sign up for the newsletter.