We all know that the oceans contain a lot of plastic and the fish sold on some Asian markets and not only contain microparticles of plastic. Millions of plastic waste, pets, clothes are swimming in our oceans which affect our lives and the oceans lives. The plastic production increased a lot in the last years, and a large quantity is in the seas and oceans. You probably heard or read at least once about this subject.
A solution was found by Adidas who partnership with 'Parley for the oceans' and transforming the plastic by recycling and creating new sportswear products. How many of you guys have heard and know about the recycled ocean plastic products? Recently, I was reading about Adidas and Parley ocean plastic running shoes that seem to be the most comfortable ever.
As I'm a runner myself, I did a bit of research about this subject, and I'll share with you my findings.
The good part is that Adidas has created not only running shoes but swimming products, yoga products, outdoor products, football and boxing products.
Collaboration with Parley with the Oceans is based on three aspects: avoiding the use of virgin plastic, gathering environmental plastic waste when possible and redesigning shoe and clothing patterns, so they are sustainable and perform better.
Adidas has pledged to use only recycled plastic in all its products until 2024. Adidas replaced the plastic bags in the paper bags stores in 2016. For starters, the spring and summer collections of 2019 will contain about 41% recycled polyester.
The trend does not stop here, recycled plastics have been made pavers and garments, as you have seen. Not any plastic product can be recycled. Plastic products in the polystyrene and polyvinyl range are difficult to recycle. Packaging made of polystyrene have mostly inscription PS. It is one of the most used plastic types in the production of packaging, especially disposable ones such as glasses, plates or cutlery. In the form of expanded polystyrene, this type of plastic is also used in the production of food casserole.
Running Shoes
You will be surprised to know that Adidas has 19 available running shoes for men, women, and kids. Ultraboost model is the model suitable for running at gym, treadmill or track. The shoes are lightweight and suitable for long-running sessions because they offer comfort and soft cushioning.
The other model is Alphabounce which has a mesh upper made of yarn spun from Parley Ocean. The flexible cushioning offers comfort during usage.
The Speedfactory AM4 model is made for city running and co-created with runners. They have a foot-hugging knit textile upper made with yarn spun from recycled plastic. The shoes offer flexibility and versatility with very good cushioning.
Swimming
For this category, Adidas created swimming products for men and women. The varieties are swim bottoms, swim shorts, swimsuits, bikini tops, swim tops.
The swimsuits are made of chlorine resistant fabric which is ultra-flat and soft with recycled nylon content.
Yoga
For yoga lovers, Adidas has created some products from recycled plastic.
Yoga tights are soft and flexible making your yoga practice. The tights are made of smooth nylon with ribbed inserts and exaggerated cutouts.
All in one body is stretchy, one piece made of smooth nylon with exaggerated cutouts and ribbed inserts.
Yoga top model is a long sleeve top made of recycled polyester.
Outdoor
For outdoor activities, Adidas has created Terrex Climacool shoes, jackets, shorts and t-shirts. The jacket models are in two and three layers which offer breathable protection to keep you dry. The jackets are light weighted with a helmet like a hoodie to keep your head warm. Like all the products, the jackets are made of recycled plastic.
Other Products
Adidas Z.N.E. Parley Hoodie, Z.N.E. Parley Paints, Hurricanes Parley Jacket, and Polo shirt, ankle socks, Adizero Parley cleats, running thighs and tee.
Plastic Coding System
To understand the plastic history let's see some info. In 1988, the United States Plastic Industry Society established a plastic coding system that has been in place today. It has been and is meant to make it easier for consumers and recyclers to differentiate between different types of plastic for the most efficient recycling. The system contains numbers from 1 to 7.
The easiest recycling plastic is type 1 and includes plastic made of polyethylene terephthalate (PET), i.e., water and refreshing bottles, medicine boxes and many other containers used for consumer goods. Once processed, PET can become synthetic fiber for winter clothes, sleeping bags, life jackets, cassettes, carriages, ropes, other bottles, etc.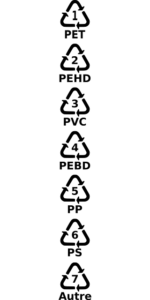 Type 2 means plastic made of high-density polyethylene. Here are containers and bottles for detergents, bleaches, shampoo, motor oil or milk. This plastic is recycled to make toys, pipes, twine, and plastic for construction.
In the category of plastics that are recycled less frequently because of their low recyclability, types 3, 4 and 5 are included. Type 3 is vinyl polychloride, i.e., PVC, used for pipes, bath curtains, medical instruments, teats, etc.. Like the number 4 (low-density polyethylene used for shopping bags or bags for sandals) and number 5 (polypropylene used in different plastic envelopes, etc.).
Type 6 is polystyrene, which is used for coffee beverages, disposable cutlery, insulation, etc. It can be reprocessed very easily, especially in rigid insulating foam.
The most difficult to recycle are type 7 plastics, i.e., those made from a combination of the materials mentioned above or rarely used plastic formulations. They are difficult to collect and recycle because of not fitting into a fixed category. That is why they can be returned to producers so that individual users do not feel responsible for the landfills.
Conclusion
I also read that Head&Shoulders; collected the PETs thrown on the beaches of France and to make them containers where they sell shampoo. Dutch construction company VolkerWessels aims to pave roads with recycled plastic bottles instead of asphalt.
I like that the big brands are starting to pay more attention to sustainability by making pet products thrown away and easy to show awareness to others how important it is to take care of our planet.
Lately, several global companies have begun to take action to reduce the use of plastic. Starbucks will remove the disposable plastic straw and has plans to manufacture recyclable and compostable glasses. Other independent cafes, shops, and restaurants have started to give up plastic and offer environmentally friendly alternatives instead.
Would you buy a pair of sneakers made from recycled plastic? I would like to hear your thoughts.
Stay healthy!