I just arrived home after a long day in the office. The time spent in traffic and the pouring rain just drain off all the remaining energy. All I want to do is to soak my body in a bathtub and relax. I know that the bath will also help me to detox my body using my special mix.
Do you want to take the full advantage of the bath? You have to try the bath detox recipes which I'll share with you.
The detoxification is an essential step for your health, check ' The Best Detox For Weight Loss' and ' Easy 15 Day Detox Diet Plan'. Apart from green juices, which I prepare daily, the detox baths will extract the toxins from my body.
Because, over time, our body accumulates a large number of toxic substances and residues, detoxification of it several times a year is always indicated.
You have certainly heard about the many of the existing detoxification methods, but you may have missed the simplest way you can do at home even after a long day of work: detoxification bath.
I do not think there is a woman who does not like sitting in the bathtub for a few minutes and getting away from reality. Therefore, you can turn any regular bath into a detox bath if you have recipes with the best ingredients.
To begin with, you need to know that it is easy enough to prepare such a bath. You need a combination of essences, oils, salts, and your favorite songs in the wind. The idea of these baths is to eliminate the toxins present in your body through the skin pores.
I offer you 3 trendy recipes for a detox bath:
1. Ginger bath
Ginger is a spice known for its intense flavor as well as its therapeutic properties: it stimulates blood circulation, detoxifies the body, and adjuvant in colds, asthma, indigestion or rheumatism.
Used in bath water, it has almost the same effects as the ingested. To prepare this bath, you need a quarter of a cup of fresh ginger. You can use two teaspoons of ginger powder if you do not have fresh ginger.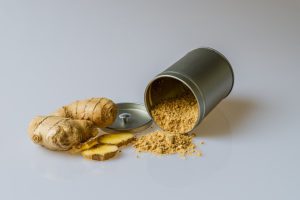 If you use the grated ingredient, put it in a cloth bag, and if you use the powder version, sprinkle it in equal amounts in the bathtub surface.
Then you can enjoy this moment of relaxation for forty(40) minutes. Do not forget to add hot water at all times to maintain the right water temperature!
Most people sweat a lot because of ginger, and if you get out of the bathtub just wrap you in a blanket, you will continue to sweat so the detoxification process will continue for a few more hours. This method is especially beneficial to people who want to treat cold or flu.
2. Epsom salt bath and sodium bicarbonate
Epsom salt or bitter salt is used for centuries to detoxify the body. For the bath in the bathtub, you use two sodium bicarbonate cups per Epsom salt cup.
Thanks to these two mineral-rich ingredients, you will enjoy smooth and velvety skin. You can also add a little glycerin in the mixture because salt may have a drying effect on the skin.
Also, for a pleasant smell, you can add essential oils. I prepare my own mix with Epsom salt and lavender essential oil. I add a tablespoon of this mix in warm water.
You probably know about Epsom salt benefits. Epsom salt added to warm water helps relieve muscle weakness and reduce pain.
3. Bath With Milk
If you want to know how Cleopatra felt when she was having a bath with milk, try the following recipe.
The milk bath is one of the best recipes for detoxification treatment. Both women and men prefer such a bath. You need two or more cups of powdered milk combined with a cup of cornstarch.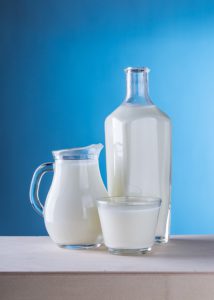 Mix these two ingredients, then add them to the water-filled tub. For a pleasant smell, add a few drops of essential oil.
How do you prepare for a detox bath?
To have the desired effects, before you make the detox bath, you need to clean your skin dry. Use a soft brush or sponge harder and thoroughly cleanse the whole body.
This will help you get rid of bacteria, dead skin and activate your lymphatic system for detoxification to be effective.
You will notice that, after this cleaning, you will feel the smooth and velvety skin.
Then prepare the bath according to the instructions above.
Prepare to relax for the next 40 minutes. Drink a glass of water and join with you one more for hydration. Listen to the music you love, read a book or magazine, light up candles, do whatever relaxes you, at this time.
Try to eliminate negative thoughts and get rid of stress. This way, you make sure that the detoxifying bath has the desired effect.
After bathing, rehydrate yourself with a glass of water and give yourself a good cream or oil all over your body.
Now you have clean and smooth skin, and your body has got rid of toxins.
Bonus Recipe
One simple and efficient method to detox your body is by detoxifying your feet.
For foot detoxing, you will need:
– Salt Epsom
– Clay
– Apple cider vinegar
– Hot water (almost hot)
– A bowl large enough to place your feet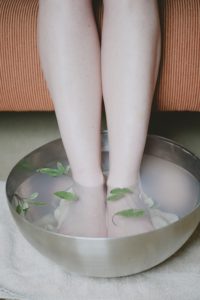 Mix ½ cup of Epsom salt in water to soften the feet. Until you, mix two tablespoons of clay with a tablespoon of apple cider vinegar in a bowl. You can add some water if necessary.
Stay with your feet in this water for at least 15 minutes. While the feet are in the bowl, the toxins are released from the body. The result of unhealthy eating habits can be often seen in the eliminated toxins.
When the body is full of toxins, the water will become darker.
Final Thoughts
The detox bath is one of the most natural healing therapies that cleans the body of toxins. Our bodies are prone to toxins, more than ever. They are found in the air, in food, in medication, and in water.
Bearing in mind that they can cause irritation and damage the body, they are considered harmful to our well-being.
Detoxification is a method of removing toxins and other dangerous compounds and accelerating metabolism. In fact, without knowing it, it's a natural process of the body. However, the body's ability to detoxify is not unlimited.
I do hope that you will try each shared recipe. My favorite is the Epsom salt with lavender essential oil.
Which one is your favorite? Do come back with a comment, I would be glad to hear your thoughts.
Stay healthy!