The winter is just around the corner, but shall we stop running outside if it's cold or snow? If you are like me, I assume not, but to run outside, you need winter running shoes. Don't let weather to be an excuse and stop you from what you like to do.
Running on the snow and at temperatures below minus 8 degrees require extra attention for both the hydration part and the equipment part, but especially to know how to strain your effort.
As the pair which I have is a not worn out, I did a bit of research before buying a new pair. Look what I found.
Adidas Pureboost RBL
This model is perfect for cold weather workouts with an outsole perfect suited for winter. Even if it's winter, you can use them to run inside, on a treadmill. With a mid-soft cushioning and a splash resistant material, the shoes offer flexibility and versatility.
Pureboost RBL has better material and performance compared with other Adidas models.
Check the price on Amazon.
Salomon Snowcross 2 CSWP Trail Running Shoe
They are waterproof, designed especially for harsh weather conditions. I like the ice style because, in the snow, which could become very bumpy, your foot can run to one side or another without notice. The shoes are designed to keep your ankle together.
Check the price on Amazon.
Salomon Men's XA Pro 3D GTX Trail Running Shoes
They are very comfortable, no back pain, no feet pain. The shoes have a good grip on the trail and are water-resistant thanks to Gore-Tex waterproof membrane. The quick lace is very convenient offering a pleasant feeling, but don't if you tighten it, you will end up with a sore pinky toe.
The upper material has a breathable mesh, and it's quick drying. The shoes have quick lace, contra grip, and sensifit options.
The shoes are designed for trail running with benefits such as grip, stability, long-lasting protection and waterproof.
Check the price on Amazon.
La Sportiva Crossover 2.0 GTX Waterproof Mountain Running Shoe
The shoes are perfect for the trail, mountain and off-road. The shoes offer good stability, perfect for daily running with great comfort.
The model has an internal lacing system with an outside zipper for better protection. The shoes offer a great experience when running on snowy or icy terrain because they are constructed with an AT Grip Zone.
Your ankles are protected due to integrated gaiter.
Check the price on Amazon.
Useful Advises To Run At Low Temperatures
1. Dress in layers of thin clothing that keep moisture away. The first layer of clothes should be a thin one, non-cotton material, which keeps your sweat away from your body. Do not wear cotton because it retains moisture and will keep you wet. An outer layer, breathable nylon or Gore-Tex will protect you from wind and rainfall and will eliminate heat or moisture to prevent overheating or cooling. On the colder days (-15), a middle layer is required. Usually, a fleece layer will suffice.
2. Protect your hands and feet. According to studies, nearly 30% of body heat is eliminated by hands and feet. In days of mild weather, wearing treadmills that remove moisture. Finger gloves are a better option on cold days because your fingers will share your body heat. Wear 2 layers of socks, a running socks as the first pair and the second pair on top. Make sure you have enough space in shoes to accommodate these thicker socks; otherwise, you will freeze.
3. Avoid dressing too thick or too many layers. You will start to warm up as soon as you begin to move, so you should be a bit cold when you start to run. If you're warm and comfortable when you start, you'll sweat very quickly in the race. As a rule: dress as if outside are 20 degrees more than the real temperature.
4. Cover your head. According to studies, nearly 40% of body heat is eliminated through the head. If you wear a hat, you will prevent heat loss your circulatory system will have a well-distributed heat to the rest of your body. When it's very cold, you should wear a face mask or a scarf at the mouth to warm up the air you're breathing and to protect your face. Consider a buff as well.
5. Run against the wind. At the beginning of the training, run with the wind 'behind'. If you start running with the wind, you will end up feeling cold, when you get sweaty, and you can easily catch a cold.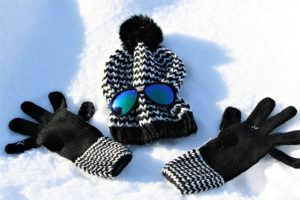 6. Hydrate yourself. Even with the cold weather, you will still get warm sweaty, which means you will lose fluids. I don't know if you remarked, but I'm sure you did, the cold air from winter is dry, which may increase the risk of dehydration. Make sure you drink water before, during and after your workout. After running, you can better have warm tea. Probably the best solution is to wear a running backpack with hydration, but choose one with the hose thermally insulated.
7. Wear sunglasses. Light reflected from snow can cause degradation of the eyes or even blindness, so consider wearing sunglasses to avoid this problem. The polarized lenses are perfect for snow.
8. Be visible. It is better to avoid running in the dark if you don't wear reflex elements. During the winter, the nights longer and the days are shorter, but this should not stop you to run. If you run in the morning or evening, when the light is almost the same, I advise you to wear reflective equipment. Try to wear strong bright colors if you run in the snow.
9. Be careful about temperature and wind. In the days with strong wind, you will feel it through all your layers and the warm barrier which protects your body will disappear. Your movements will also create cold wind as they increase the movement of air around your body. If the air temperature drops below 0 or the wind / perceived temperature below -20 then it's better to use the treadmill.
10. Ask your doctor. The cold air can cause chest pain or asthma attacks. Before considering running outside, consult with your doctor.
Conclusion
Here you have it, 4 winter running shoes and 10 advises to make your run a pleasant activity even in the winter. Do not let the cold weather to stop you running. I don't know if you are familiar with this saying: 'there is no such thing like bad weather, only bad clothes' and shoes in our case.
Remember, a good pair of running shoes for winter should have a good grip on snowy and icy terrain, waterproof and feel comfortable. If you take into account, the advises and with a good pair of shoes, your run will be very pleasant.
Which shoe model are you choosing? If you have more advises, I would be happy to hear about, just drop a comment below.
Stay healthy!